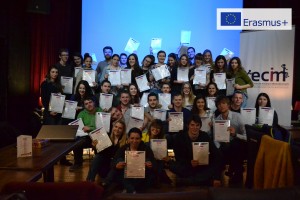 40 young people found out new knowledge, skill and attitudes which now they are going to use in daily life to influence on their societies more effectively.
Check "Our projects" and "Open Minded + Active + Creative = Hired" to see more about this project, its objectives and results – articles, gifs, poems, movies, photos and more by reading participants' comments or contacting them directly!
Enjoy and stay open minded, active and creative!
First Youth Exchange by ECIM under Erasmus+ done with a great success!