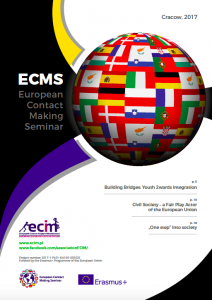 Brochure of good practices – one of the results of European Contact Making Seminar project, implemented under Erasmus+ Program, which is an effect of the process of exchange of good practices in the filed of work in Youth sector, giving information and tips according to previous projects, initiatives, methods, establishing international partnerships, project management, use of instruments of non-formal education and ways of improving quality of youth work.
Common work of representatives of all 14 organizations involved in the development and implementation of the project.
Feel free to read, feel free to download, feel free to enjoy!
ECMS MOVIE !