Socially Inspired – Entrepreneurship for You(th)
as a step towards realizing a dream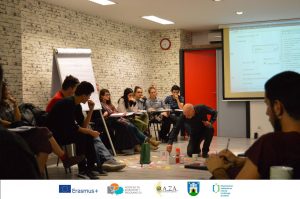 A great dream remains only a dream if not taken any action in order to realized it. Nowadays young people are lucky to have Erasmus+ program, which takes into consideration helping youth implementing their ideas into reality.
Being one out of many young people who get to feel the advantages of the Erasmus+ programme, I had lastly a considerable chance to ponder my business idea within the training course called "Socially Inspired – Entrepreneurship for You(th)".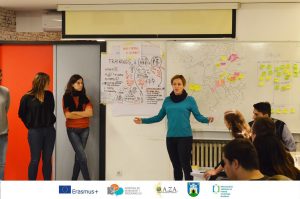 From 27th November to 2nd December 2017 along with other 28 participants from UE countries as Croatia, Cyprus, Italy, Hungary, Poland, Portugal, Romania and Spain, we focused on learning about the concept of social entrepreneurship. First of all, it is significant to understand the difference between the social entrepreneurship and regular business. An outstanding characteristic of the first concept is the idea of solving a social problem, rather than making profits for owners. Known as the "social economy", it includes cooperatives, mutual societies, non-profit associations, foundations and social enterprises.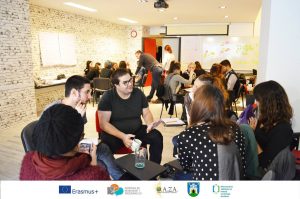 During the one week training course all participants had the chance to exchange the good practice examples of their country in the area of social economy. As well, in the host country, Croatia, we could observe how the values of environmental sustainability and labor market inclusion are applied thanks to the organized study visit to the social enterprise Humana Nova in Zagreb. This social enterprise engages the disabled and other socially excluded persons (for example prisoners) into the process of sorting, reusing and recycling of clothing. Furthermore, thanks to the help of Patrycja Pieniazek our ideas and country examples were presented at the International Social Entrepreneurship Conference for Youth. Together with my Polish team members we presented our research of good examples and practices from our country.
On the other side, I was impressed by how much attention was focused for the personal development with our project schedule. Thanks to workshops organized by trainers: Filip Brničević, Nives Tomaš, Zoltan Hossu and Petar Turčinović and invited guest Goran Pejaković, we could take a deeper look deeply into our personalities.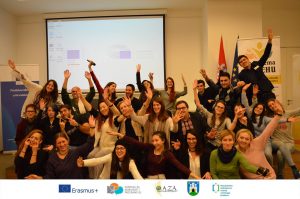 What we do now shapes our future and every lesson and project we attend has its importance and consequence in our life. Agreeing with the aime of O.A.Z.A. (Odrziva Alternativa ZAjednici), Croatian project organization, encouraging young people to take responsibility is one of the basic steps a society could make in order to became more sustainable. I am strongly convinced that individual action can change bit by bit the world we live now. I took an action, did YOU?
Organizations represented in the framework of training course "Socially Inspired – Entrepreneurship for You(th)":
O.A.Z.A. – Odrziva Alternativa ZAjednici (Croatia),
Oko-volgy Alapítvány az Alkalmazott Fenntarthatóságért (Hungary),
Futuro Digitale (Italy),
European Center for Youth Initiatives (Poland),
ProAtlântico – Associaçao Juvenil (Portugal),
Asociatia Tineri pentru Dezvoltare Durabila in Europa (Romania),
EPSJ Rubeum (Spain),
Viaje a la Sostenibilidad (Spain).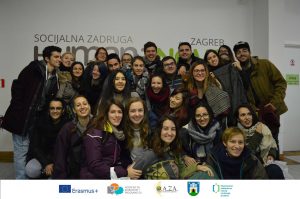 Article written by Viorica-Valeria Ciobanu within
The European Center for Youth Initiatives (Poland)